Journey to the Apex: Harnessing the Unprecedented Tax Efficiency of the UAE with No Borders Founder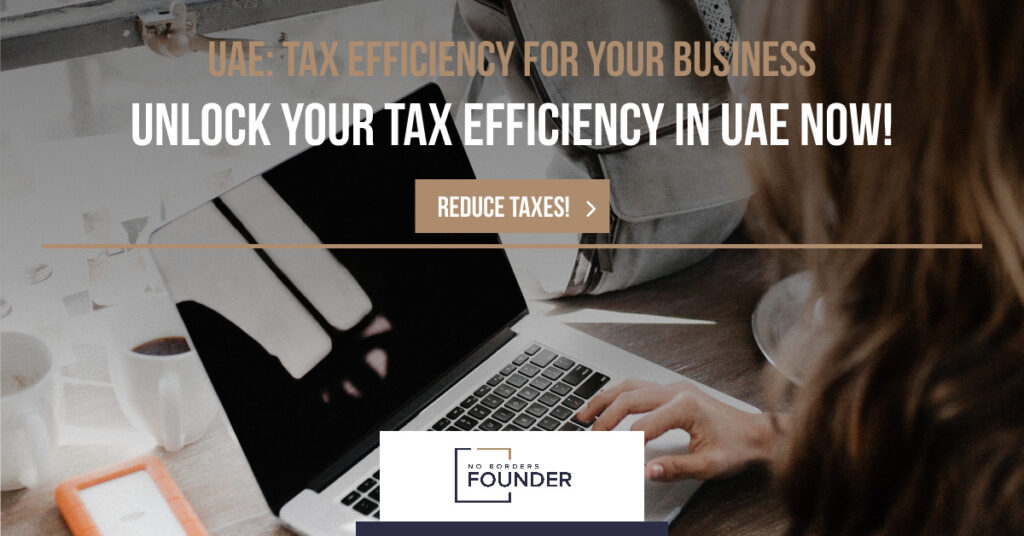 Preface: A New Dawn in the UAE's Business Landscape
Every sunrise brings the promise of a new beginning, a fresh chapter waiting to be penned in the saga of life. As entrepreneurs, we learn to embrace this promise, seeking fresh opportunities to bring our dreams to fruition. Amid this endless search, one opportunity emerges brighter than others – the potential of striking tax efficiency in the business paradise that is the United Arab Emirates (UAE).
Decoding the Mysteries of the UAE Tax System
The UAE, a vibrant symphony of seven emirates, stands as an epitome of human ambition and enterprise. However, as you voyage across its golden business landscape, a tantalizing revelation awaits you – the tax efficiency that has become the lifeline for entrepreneurs striving to maximize their business profits.
Delving Deeper into Corporate Taxes in the UAE
The tax landscape of the UAE is like a beautifully woven tapestry, intricate yet fascinating. Here, corporate taxes are imposed only on foreign banks and oil companies, creating an inviting space for other businesses. Furthermore, individuals enjoy the privilege of no federal income taxes, creating an unrivaled tax-saving potential.
But recently, the tranquility of this tax haven saw some ripples. A 9% corporate tax was introduced on businesses with an annual income exceeding AED 375,000. On the surface, this may seem to diminish the UAE's tax advantage. However, with strategic planning and expert guidance, this change can be successfully navigated, preserving the tax-saving potential that makes the UAE so enticing for entrepreneurs.
Consider John's story. An entrepreneur from Australia, John sought to pioneer breakthroughs in the fintech landscape of Dubai. Initially daunted by the recent tax changes, John leveraged strategic planning to ensure his business thrived, utilizing the UAE's tax efficiency to divert significant tax savings back into his venture, fueling its growth.
The Unseen Catalyst: No Borders Founder in Your Journey to Success
Starting a business in the UAE may seem like navigating uncharted waters. But what if you had a seasoned captain to steer the ship, a guide who knew the terrain like the back of their hand? That's where No Borders Founder steps in.
Tailored Guidance for Business Setup
We are the unseen catalyst in your success story, a reliable ally who walks beside you, untangling the complexities of the UAE's business landscape. Our guidance is tailored to your unique business needs, helping you understand the business setup procedures, licensing norms, and the tax structure.
Take Alice's example. An aspiring entrepreneur from South Africa, Alice dreamed of making a difference in Dubai's renewable energy sector. However, the intricacies of establishing a business in a foreign land seemed a formidable challenge. That's when No Borders Founder stepped in, guiding Alice with detailed insights and creating a seamless pathway for her dream to become a reality. Today, Alice leads one of the most influential renewable energy companies in Dubai, shaping the city's journey towards sustainability.
Visa Processing with Ease
As the multicultural epicenter that is the UAE, acquiring the necessary visas for your global workforce can seem like a Herculean task. But with No Borders Founder, this process is transformed into a smooth sail. With our expert understanding of the regulatory and documentation requirements, we ensure a seamless, stress-free visa procurement experience, allowing you to focus on what you do best – nurturing your business.
Manifesting Dreams into Tangible Triumphs: The No Borders Founder Approach
At No Borders Founder, we believe that every dream holds the potential to transform into a triumphant reality. However, it requires a perfect blend of determination, resilience, and an unwavering companion in your journey.
Consider Lee's story. A Singapore-based entrepreneur, Lee dreamt of making significant strides in the AI sector. He saw Dubai as an ideal launchpad but was daunted by the complexity of business setup and tax processes. With No Borders Founder's expert guidance, Lee navigated these challenges, turning his dreams into a successful reality. Today, Lee's AI firm thrives in Dubai, adding another vibrant hue to the city's technological landscape.
An Invitation to Success: Your Story is Waiting to Unfold with No Borders Founder
Behind every triumphant entrepreneur is a mentor, a guiding light leading the path towards victory. At No Borders Founder, we're not just that guide, but also a believer in your dreams. Our commitment is to transform your entrepreneurial journey into an enriching narrative of growth, discovery, and success.
FAQs: All Your Queries Addressed
To help you navigate this exciting journey, we've compiled a series of FAQs that address everything you need to know about setting up a business in Dubai and how No Borders Founder can guide you in your journey.
Is Dubai's business environment truly tax-efficient?
Yes, Dubai offers one of the most tax-efficient business environments globally, with corporate taxes typically levied only on foreign banks and oil companies.
What changes have been made to the UAE's corporate tax structure?
The UAE has introduced a 9% corporate tax on businesses with an annual income exceeding AED 375,000.
Can No Borders Founder help navigate these tax changes?
Absolutely. No Borders Founder provides comprehensive guidance to understand and navigate the UAE's tax landscape effectively, helping businesses maximize tax-saving potential.
Can No Borders Founder assist with the visa process?
Yes, No Borders Founder offers complete assistance in the visa process, ensuring smooth and efficient visa procurement for entrepreneurs and their teams.
How long does it take to set up a business in Dubai?
The duration varies based on the business type, activity, and location. However, with No Borders Founder's guidance, the process becomes more streamlined and efficient
Can No Borders Founder help with the visa process?
Absolutely. At No Borders Founder, we ensure a hassle-free visa procurement process for you and your employees. We handle all regulatory and documentation requirements, ensuring that you can focus on what truly matters – growing your business.
How long does it take to set up a business in Dubai?
The duration can vary depending on the business type, activity, and chosen location. However, with No Borders Founder's assistance, the process can be smooth and efficient.
Epilogue: A Call to Action – Time to Write Your Success Story
The sun is setting on the horizon, painting the Dubai skyline with hues of your dreams. The city's inviting business landscape echoes with the whispers of countless success stories. And now, it's time to add yours.
Are you ready to weave your success story in the UAE? Are you prepared to soar high, fueled by the unique tax efficiency that Dubai offers? Reach out to us today, and let's begin this journey together. At No Borders Founder, we're ready to be your co-authors in this narrative of success. Because every dream deserves to soar, and we're here to give yours the wings they need.
Your moment of glory beckons you. It's time to step into the limelight, to embrace the challenges, the victories, and everything in between. It's time to etch your success story in the sands of Dubai, under the watchful gaze of the towering Burj Khalifa, an epitome of human aspiration.
The journey may be daunting, the waters uncharted. But remember, you're not alone. No Borders Founder is with you, ready to turn the complex into manageable, the intimidating into exciting. It's time to navigate the seas, to journey towards the land of success.
The call of the UAE's golden dunes is growing louder. Can you hear it? It's a call to the brave, the bold, the dreamers. Are you ready to answer it? Let us embark on this journey together, for the dawn of your success story is just a horizon away. Are you ready to soar?
#NoBordersFounder, #UAEBusiness, #TaxEfficiency, #DubaiEntrepreneurship, #UAETaxSystem, #BusinessSetup, #CorporateTaxes, #DubaiBusinessLandscape, #VisaProcess, #BusinessGrowth, #DubaiSuccessStories, #DreamsToReality, #UAEInnovation, #BusinessInDubai, #EntrepreneurialJourney