The Wealthiest Cities in the World: Venturing into the Coveted Sanctuaries Where Boundless Opportunity Meets Unrivaled Luxury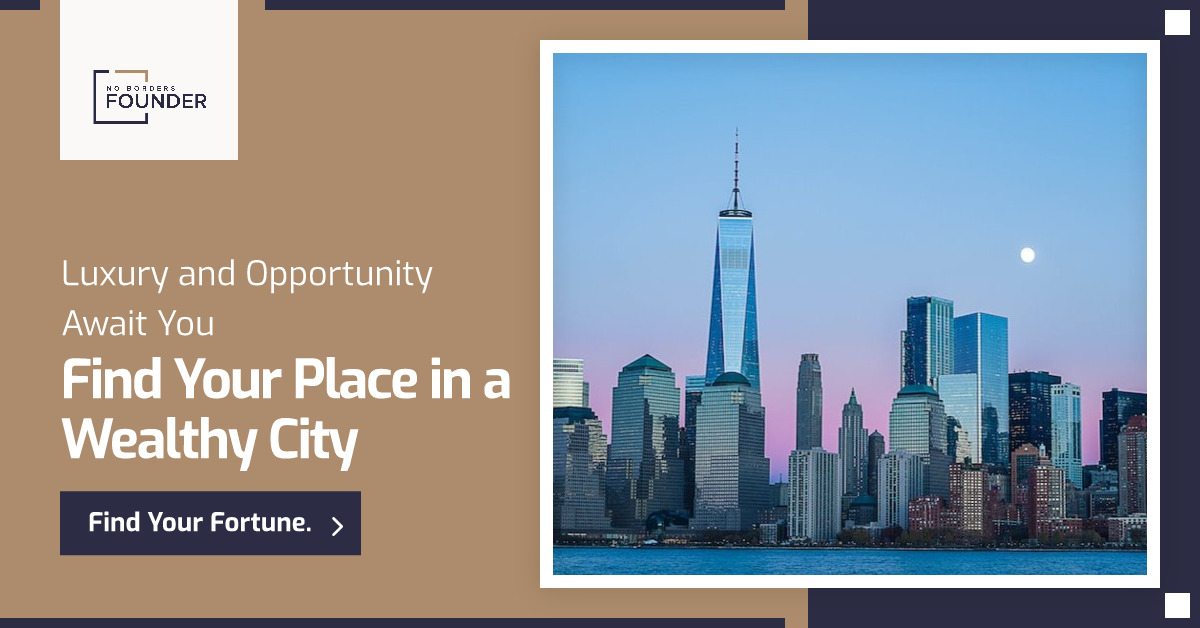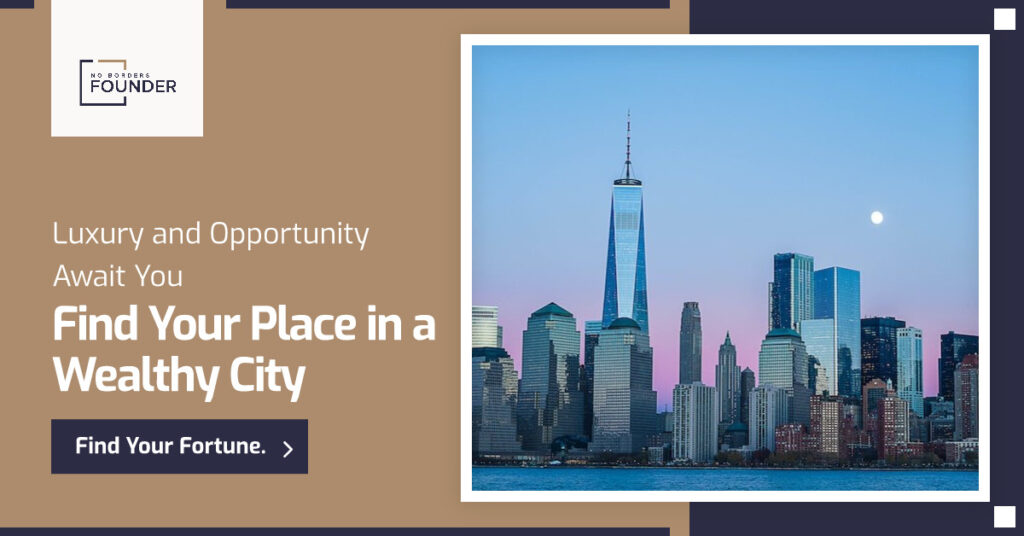 Charting the Course through the Globe's Wealthiest Cities: An In-depth Unveiling of the Epicenters of Wealth, Opportunities, and Luxury for Entrepreneurs
Imagine standing on a precipice, gazing into the panorama of the world's wealthiest cities, where opportunity, luxury, and wealth converge into an alluring mosaic of success and affluence. You, an entrepreneur, stand with me, your No Borders Founder, at this threshold, eager to embrace a world replete with limitless potential and magnificent opulence.
The cities we'll explore are not just wealthy, but they are indeed the epitome of wealth, the arenas where fortunes are amassed, where dreams metamorphose into reality. Here, wealth is an intricate fusion of prosperity, luxury, and a thriving entrepreneurial spirit.
So, come with me on this remarkable journey, as we dive deeper into the narrative of these cities, the lifestyle they offer, investment opportunities that abound, and the inspiring experiences of local entrepreneurs who have charted their success stories on these lands. Fasten your seatbelts, and let's start our exciting exploration.
New York City, United States: The Empire of Opportunities
In the heart of the United States lies a city that never sleeps – New York. It is a dazzling hub where dreamers gather, where the ambitious thrive, and where opportunities flourish.
New York City's lifestyle is as diverse as its inhabitants. From the urban charm of Manhattan, the artistic allure of Brooklyn, to the rich cultural heritage of Queens, the city is a potpourri of experiences. It offers a gastronomic journey through its diverse cuisine, an artistic exploration through its museums and galleries, and retail therapy with luxury brands like Tiffany & Co, and Saks Fifth Avenue.
For entrepreneurs seeking investment opportunities, New York City presents a plethora of options. Its real estate market, particularly luxury apartments in Manhattan and brownstones in Brooklyn, are among the most sought-after. Furthermore, the city's thriving sectors – fintech, healthcare, e-commerce – promise high returns on investments. Sarah Roberts, a successful entrepreneur in the fintech sector, says, "New York offers a dynamic, versatile environment for entrepreneurs. The city's vibrant ecosystem fosters innovation and growth."
Tokyo, Japan: A Fusion of Tradition and Futurism
Tokyo, an amalgamation of tradition and futurism, is a city of unparalleled wealth and opportunities. With a lifestyle that effortlessly merges the old with the new, Tokyo is a haven for those who seek to leave their mark.
The Tokyo lifestyle is an exquisite blend of ancient traditions and modern comforts. The tranquility of traditional tea ceremonies, the serene beauty of cherry blossoms, and the magnificence of historic temples coexist with the vibrancy of anime culture, the cutting-edge technology, and the bustling shopping districts like Ginza and Akihabara.
For entrepreneurs, Tokyo offers a wealth of investment opportunities. Its real estate market, particularly in areas like Minato and Shibuya, offers high returns. Furthermore, its booming sectors – technology, automobile, and retail – provide myriad business opportunities. Yukihiro Matsumoto, a successful tech entrepreneur, states, "Tokyo is technologically advanced and entrepreneur-friendly. The opportunities for growth and innovation are boundless."
London, United Kingdom: A City Built on Heritage and Innovation
London, with its iconic landmarks and vibrant entrepreneurial scene, is a city that continues to draw the wealthy and ambitious. It offers a lifestyle that seamlessly fuses history, luxury, and innovation.
The London lifestyle is a rich tapestry of culture, arts, gastronomy, and retail. From the historic charm of the British Museum and Buckingham Palace, to the culinary delights in Borough Market, and the retail therapy offered by Harrods and Savile Row, London offers a lifestyle that is unmatched.
Investment opportunities in London are as diverse as the city itself. Its real estate market, particularly in areas like Kensington and Chelsea, promises high returns. The city's thriving sectors like finance, technology, and creative industries offer a wealth of opportunities. Richard Branson, a renowned entrepreneur, shares, "London's rich heritage, combined with its innovative spirit, makes it a promising city for entrepreneurs."
Paris, France: Where Luxury Meets Art de Vivre
Paris, synonymous with love and luxury, is a treasure trove of wealth and sophistication. Its alluring lifestyle and lucrative business opportunities make it a preferred choice for entrepreneurs and the wealthy.
Parisian lifestyle is an embodiment of luxury. With its rich history, world-class museums like the Louvre, high-end fashion houses like Chanel and Dior, and its gourmet cuisine, Paris offers an unmatched quality of life.
Paris offers a wealth of investment opportunities for entrepreneurs. Its luxury real estate market, particularly in areas like
Saint-Germain-des-Prés and Le Marais, are highly attractive. Moreover, sectors like fashion, tourism, and gastronomy provide ample business opportunities. Francine Dupuis, a local entrepreneur in the luxury sector, shares, "Paris's rich heritage and culture create a thriving environment for businesses, particularly in the luxury sector."
Singapore: The Dragon of Southeast Asia
Despite its small size, Singapore is a giant in terms of wealth and opportunities. Known for its exceptional quality of life and business-friendly environment, Singapore is a magnet for entrepreneurs and the wealthy.
Singapore offers a lifestyle that balances eastern charm with western comforts. The city-state is a gastronomic paradise, boasts a world-class education system, efficient public transportation, and luxury shopping at Marina Bay Sands and Orchard Road.
Singapore's strategic location and robust infrastructure make it an ideal hub for businesses. Its real estate market, particularly in districts like Orchard Road and Marina Bay, offer high returns. Moreover, sectors like finance, biotechnology, and e-commerce are thriving, offering a wealth of opportunities. Dr. Chee Yeung, a local entrepreneur, shares, "Singapore's strategic location, robust infrastructure, and supportive government policies make it an ideal hub for businesses."
In conclusion, these cities are more than just pockets of wealth; they are the embodiment of a life where success, opulence, and opportunity exist in harmony. They offer a platform where entrepreneurs can soar, where they can live life on their own terms. As we continue our journey, traversing through these epicenters of wealth, we can't help but wonder, dear reader, which of these cities will be your next destination, your new home, your sanctuary of success?
As your No Borders Founder, I invite you to step into these lands of opulence and limitless opportunities and chart your own success story. After all, the world is an entrepreneur's oyster, and the pearls are there for the taking!
Unraveling the Intricacies of Wealth and Opportunity: An Entrepreneur's Guide to the World's Most Affluent Cities
Why is New York City a promising landscape for entrepreneurial ventures?
New York City, with its vibrant business environment and vast investor network, is an entrepreneurial gold mine. Its robust industries – fintech, healthcare, and e-commerce – present a compelling proposition for entrepreneurs seeking to create or expand their wealth.
How does the affluent lifestyle of New York City benefit entrepreneurs and wealthy individuals?
New York City caters to the affluent with its diverse gastronomic landscape, premier retail destinations, and an array of luxury residences. The city's dynamic pace of life serves as a fertile ground for the creation and proliferation of innovative business ideas, making it a paradise for entrepreneurs and wealthy individuals.
How does Tokyo blend age-old traditions with a futuristic vision, creating a unique environment for entrepreneurs?
Tokyo's unique blend of tradition and modernity fosters a business landscape that respects heritage while championing innovation. The city's technological advancement and appreciation for tradition make it an intriguing choice for entrepreneurs seeking a culturally rich yet forward-thinking business environment.
What investment opportunities make Tokyo a hub for wealthy entrepreneurs?
Tokyo, with its booming sectors such as technology, automobile, and retail, offers fertile ground for investment. The city's real estate market, particularly in districts like Minato and Shibuya, also promises high returns, making it attractive for wealth creation and expansion.
How does London's fusion of heritage and innovation make it a coveted destination for entrepreneurs?
London's blend of rich history and innovative spirit creates an entrepreneurial ecosystem that is ripe with opportunities. The city's thriving finance, technology, and creative sectors make it an enticing choice for entrepreneurs looking to carve their niche and amass wealth.
What aspects of London's lifestyle appeal to the affluent and entrepreneurial class?
London offers an enviable lifestyle that combines cultural richness, culinary delights, and premier shopping experiences. Its array of luxury accommodations and the city's penchant for innovation make it a magnet for wealthy entrepreneurs seeking a lifestyle that matches their ambitions.
What makes Paris a beacon of luxury for entrepreneurs and wealthy individuals?
Paris, with its luxury fashion houses, world-class museums, and gourmet dining, epitomizes opulence. Its flourishing luxury sector offers abundant opportunities for entrepreneurs seeking to venture into a market that caters to the refined tastes of the world's wealthiest.
What are the investment avenues in Paris for wealth generation and expansion?
Paris offers an enticing real estate market, particularly in luxury neighborhoods. Its fashion, tourism, and gastronomy sectors are thriving, offering entrepreneurs a myriad of avenues for investment and wealth creation.
How does Singapore's blend of eastern charm and western comfort create an attractive business environment for entrepreneurs?
Singapore is a fusion of East and West, providing an environment that combines Eastern business ethics with Western corporate structures. Its strategic location, robust infrastructure, and pro-business policies make it an appealing destination for entrepreneurs and wealthy individuals.
What makes Singapore a strategic business hub for wealthy entrepreneurs?
Singapore's strategic location, combined with its business-friendly environment and thriving sectors like finance, biotech, and e-commerce, make it an ideal base for entrepreneurs seeking to grow their wealth in Southeast Asia and beyond.
Why is the lifestyle in the world's wealthiest cities a magnet for entrepreneurs and wealthy individuals?
The wealthiest cities offer an unparalleled lifestyle, replete with luxury amenities, cultural richness, and a conducive business environment. This blend of luxury and opportunity makes these cities enticing to entrepreneurs and wealthy individuals seeking to enhance their quality of life while expanding their businesses.
Which sectors in the world's wealthiest cities hold the greatest promise for entrepreneurs looking to amass wealth?Promising sectors for entrepreneurs in the world's wealthiest cities include finance, technology, luxury goods, real estate, healthcare, and gastronomy. The choice of sector largely depends on the entrepreneur's expertise and the specific city, making tailored research a crucial step in the wealth creation journey.
Unleashing the Entrepreneur Within: Charting Your Course to Wealth and Success with No Borders Founder and Alexander Erber
As the landscape of wealth continues to shift, it beckons you to a world where boundaries blur, where innovation meets opulence, and where cities become playgrounds for the affluent and entrepreneurial. A world led by visionaries who craft their narrative of success and define the contours of their journey.
You may wonder, how do you navigate this ever-evolving terrain of prosperity?
Enter No Borders Founder, a visionary platform designed for those who aren't confined by the ordinary, who seek to explore untapped territories of wealth, and who crave for a lifestyle where luxury meets opportunity.
At the helm of this mission is Alexander Erber, a luminary who believes in the power of relentless pursuit. A man who has been there, done that, and now helps others trace the path to success.
His journey, like yours, wasn't paved with gold from the start. It was a road filled with challenges, trials, and countless moments of self-doubt. Yet, every hurdle was but a stepping-stone towards the creation of a realm that knows no borders, no limits.
Alexander Erber, a pioneer who found a way to turn challenges into victories and dreams into realities, now invites you to do the same. His experiences, expertise, and insights are not merely tools, but powerful catalysts to ignite your potential and propel you towards a world where wealth isn't the destination, but the journey itself.
Dive into this compelling voyage with No Borders Founder. An expedition where Alexander Erber guides you through the intricacies of wealth creation, navigating the world's wealthiest cities, uncovering investment opportunities, and crafting a lifestyle that mirrors your aspirations.
It is said that opportunity knocks but once. But here, in our world, it knocks every time you dare to dream, every time you dare to break free from your confines, every time you dare to set foot into the uncharted.
The question isn't whether this journey is for you. The real question is, are you ready to chart your course towards the world's wealthiest cities, to explore the amalgamation of opportunity and luxury, and to create a narrative that echoes your entrepreneurial spirit and ambition?
Because at No Borders Founder, we don't just traverse the landscape of wealth, we redefine it. Together with Alexander Erber, your journey into the world's most affluent cities isn't just a possibility, it's a thrilling reality waiting to be explored. So, are you ready to rewrite your story? To step into a world where borders don't define you, but where you redefine borders?
#WealthiestCities #OpportunityMeetsLuxury #EntrepreneurialJourney #NoBordersFounder #AlexanderErber #AffluentLifestyle #InvestmentOpportunities #GlobalWealth #BusinessSuccess #WealthCreation #LuxuryLiving #WorldsRichest #EntrepreneurLife #WealthyEntrepreneurs #LuxuryDestinations #WealthExploration #EntrepreneurialSpirit #InternationalBusiness #LuxuryInvestments #EntrepreneurshipOpportunities