Unveiling Europe's Hidden Gems: Countries with the Best Quality of Life in Europe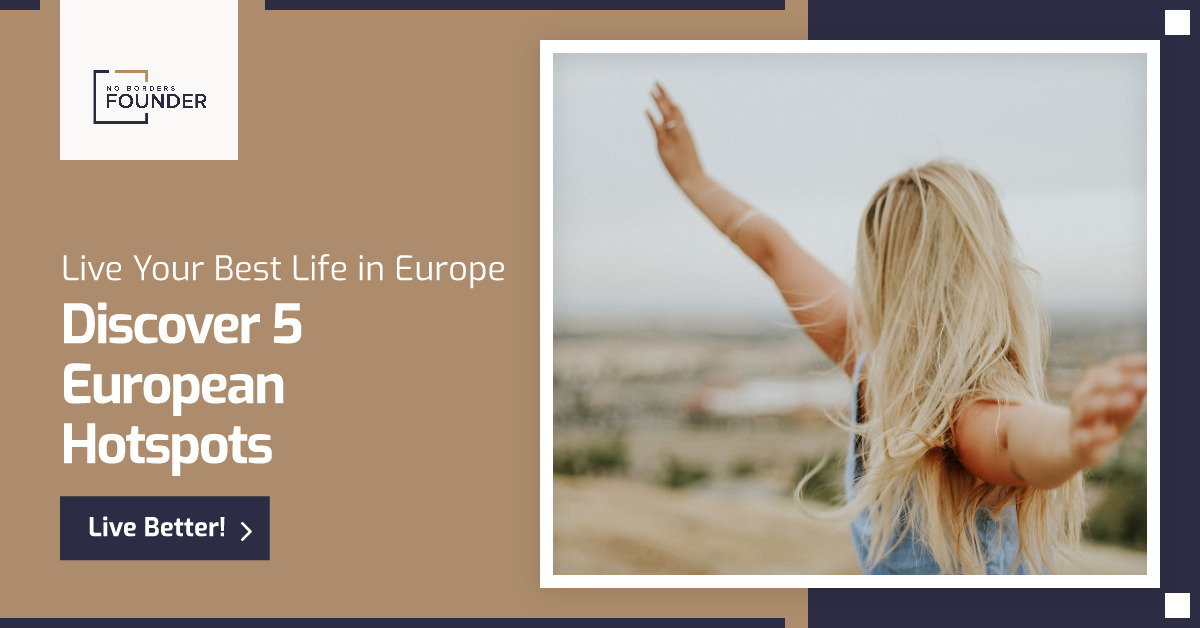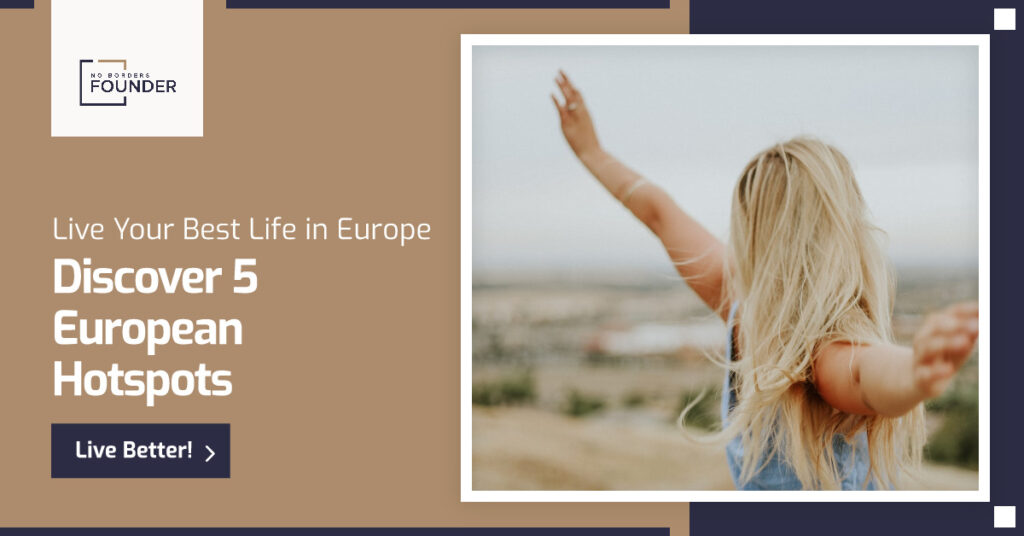 Embark on a Journey of Discovery with No Borders Founder to Find Your Perfect European Haven
Introduction: Embracing Life's Limitless Horizons with No Borders Founder
Life is a beautiful journey, a journey of discovery, growth, and transformation. It's about pushing the boundaries of the familiar, stepping into unexplored landscapes, and immersing yourself in the vibrant symphony of diverse experiences. If you've ever dreamt of a life defined by enriching cultural encounters, unsurpassed quality of life, and a thriving environment for your aspirations, then Europe is your ideal destination. In this grand adventure, allow No Borders Founder to be your reliable guide, leading you towards a life where everyday is a new discovery and every moment is a cherished memory.
Picture this scenario: You're enjoying an authentic croissant in a quaint Parisian café, feeling the pulse of the city's vibrant 'Joie de Vivre'. Or perhaps, you're in awe of the celestial dance of the Northern Lights in Norway, encapsulating the spirit of 'Friluftsliv'. Maybe you're in a high-tech German office, marveling at the nation's efficiency and precision. This is Europe – a mosaic of cultures where every country is a unique piece, every tradition is a timeless story, and every day is a delightful revelation.
Nonetheless, the idea of embarking on such a journey might seem overwhelming. The labyrinth of relocation processes, the task of comprehending foreign taxation systems, and the prospect of integrating into a new culture might appear challenging. But with No Borders Founder as your trusted partner, these hurdles can be easily overcome. Our expertise and personalized approach ensure that your transition to Europe is not just effortless, but an enriching and exhilarating experience.
At No Borders Founder, we understand the immense potential Europe holds for entrepreneurs, high net worth individuals, families, and businesses. The continent's robust economies, strategic position, and favorable tax incentives provide a fertile environment for flourishing ambitions and dreams. Unlocking these opportunities requires profound insights into the local ecosystem – an area where our expertise shines.
In this comprehensive guide, we will journey through Europe's landscape, exploring countries known for their exceptional quality of life, understanding their distinctive cultural intricacies, and highlighting their tax advantages. Our objective is to empower you with the knowledge and insights to make an informed decision for your upcoming adventure.
So whether you are an entrepreneur eager to conquer new markets, a family seeking a fresh start, or a dreamer in pursuit of a richer life experience, let this be your launchpad towards realizing your European dream. With No Borders Founder as your guide, we will navigate through Europe's boundless opportunities, transforming dreams into lived experiences.
Let us embark on this journey together, redefining life's boundaries, immersing ourselves in the diverse and captivating panorama of Europe. Because life, as we believe, is not just about existing, it is about truly living. And the journey to a fulfilling life starts with a single step – a step towards a life with No Borders.
The Norwegian Paradise: Fjords, Freedom, and Favorable Taxes
There is something truly magical about Norway. The land of the midnight sun, with its stunning fjords and northern lights, promises an enchanting life, both in terms of natural beauty and quality living standards.
One crucial aspect of life quality is education, and Norway certainly delivers. With a well-funded public education system, Norway provides free education from primary through tertiary levels. The Norwegian government spends approximately 7.9% of its GDP on education, one of the highest rates worldwide, as reported by the OECD.
Furthermore, Norway's healthcare system is primarily government-funded and universally accessible. As a resident, you'll have peace of mind knowing that world-class healthcare services are available for you and your family.
In the economic realm, Norway stands as a testament to stability and prosperity. As one of the world's largest exporters of petroleum, the country has managed to build a robust economy. Furthermore, the government has prudently saved oil revenues in the world's largest sovereign wealth fund, ensuring the country's financial stability for generations to come.
For entrepreneurs and businesses, Norway presents an advantageous tax environment. The country has a lower corporate tax rate compared to other European countries, set at 22%. Moreover, Norway offers numerous incentives for startups and businesses that invest in research and development, making it an attractive place for innovation-driven enterprises.
But beyond these benefits, life in Norway is about embracing the great outdoors, whether that means skiing in the snowy mountains, hiking amidst breathtaking fjords, or boating under the midnight sun. It's about the freedom to explore, to innovate, and to enjoy life's simplest pleasures.
At No Borders Founder, we understand the allure of Norway. Our expert team can guide you through the process of relocating, ensuring that you can embrace the best of Norwegian life without any hassles. Let us help you unlock your Norwegian dream.
Experience Danish 'Hygge': Discover Why Denmark Consistently Ranks High
Denmark, the land of legendary Vikings, Hans Christian Andersen's fairy tales, and meticulously designed Lego bricks, consistently ranks among the happiest countries worldwide. This Scandinavian nation truly encapsulates the essence of 'Hygge,' a Danish concept meaning comfort, togetherness, and well-being.
Education in Denmark is a key contributor to this high quality of life. The Danish education system emphasizes creativity and critical thinking over rote memorization. Moreover, higher education is free for students from the European Union/ European Economic Area, and students are also eligible for financial aid from the state.
When it comes to healthcare, the Danish model is universally accessible and largely free of charge. The healthcare system focuses not only on treatments but also on an increased degree of health promotion and prevention.
Denmark has a highly competitive, diverse, and technologically advanced economy. From shipping giants like Maersk to tech unicorns like JustEat and Tradeshift, Denmark is home to a wide range of successful businesses. The country's commitment to green energy also makes it a leading destination for sustainable businesses.
In terms of taxation, Denmark is known for its high tax rates. However, what one gets in return is a well-functioning public sector offering numerous services. For businesses, Denmark does not charge a capital duty tax on either share capital or capital contributed to a Danish company's branch.
Denmark's lifestyle, marked by a great balance between work and personal life, makes it an attractive place to live. The Danish labor market model offers flexible working conditions, ensuring that employees can maintain a balance between work and family life.
At No Borders Founder, we acknowledge the value of the Danish quality of life. Our team is poised to support you throughout your relocation process, providing professional guidance and personalized solutions.
The French 'Joie de Vivre': Embracing Life in France
Few countries manage to blend history, art, cuisine, and a zest for life as harmoniously as France. As you stroll down the cobbled streets of Paris, dine on the world's best cheese and wine in the French countryside, or soak up the sun on the Riviera's beaches, you'll be experiencing the famed 'Joie de Vivre' — the joy of living that's so central to the French way of life.
French education, provided free at the point of delivery, is renowned for its high academic standards. The baccalauréat (the French equivalent of the high school diploma), is a rigorous examination that prepares students well for their future academic or professional paths. Furthermore, France is home to some of the world's most esteemed universities, including the Sorbonne and Ecole Normale Supérieure.
Healthcare in France is accessible and of high quality. In fact, the World Health Organization ranked the French healthcare system as the best worldwide in terms of overall health care. This system is financed by a combination of compulsory health insurance contributions from residents and the government.
France's economy, the third-largest in Europe, is diverse and well-developed. It is globally recognized for its strong aerospace, motor industry, fashion, and luxury goods sectors. France also boasts robust tourism and agriculture sectors.
When it comes to taxation, France has progressive income tax rates and a wealth tax on high-net-worth individuals. However, these taxes fund the country's high-quality public services. For businesses, France offers tax incentives for research and development, helping stimulate innovation within the country.
But life in France is not just about work and taxes — it's about savoring each moment. Whether you're feasting on a meal that lasts hours, wandering through art galleries, or simply people-watching from a café terrace, the French lifestyle encourages you to appreciate the finer things in life.
At No Borders Founder, we'll assist you in navigating the French system. Whether you're an entrepreneur looking to set up a business, a retiree seeking a relaxed lifestyle, or anything in between, we're here to guide you towards your 'Joie de Vivre'.
German Precision: Robust Economy and Efficient Infrastructure
Germany's reputation for precision and efficiency is well known, and it goes beyond the engineering of its world-class automobiles. A powerhouse of Europe, Germany provides its citizens with a high standard of living that mirrors the country's commitment to efficiency and progress.
In the education sphere, Germany shines with a dual system that harmonizes theoretical knowledge and practical skills. Students are given the opportunity to learn in a classroom and simultaneously gain hands-on experience through apprenticeships. This blend of education helps foster a strong workforce that can adapt to the evolving needs of the market.
When it comes to healthcare, Germany is a pioneer with one of the oldest universal healthcare systems in the world. Germans have a choice between statutory health insurance, provided by around 100 public health insurance funds, and private health insurance. Both options guarantee comprehensive coverage.
Economically, Germany is a powerhouse, boasting the largest economy in Europe and the fourth largest worldwide. Key sectors include manufacturing, with an emphasis on automotive and machinery, and the service sector. It's a breeding ground for innovation, hosting several startups and tech companies.
Despite Germany not being renowned for low taxes, it does offer stability, a factor of great importance to businesses and individuals. The tax system is progressive, with income tax rates ranging from 0% for low earners up to 45% for very high earners. Moreover, numerous deductions and exemptions are available, which can substantially lower the tax burden.
The German lifestyle, steeped in a rich history yet pulsating with modern dynamism, offers an unrivaled living experience. Whether it's indulging in the lively cultural scene, hiking in the Black Forest, or simply savoring a locally brewed beer, life in Germany caters to diverse tastes.
At No Borders Founder, we stand ready to guide you on your journey to Germany. Our expertise and personalized approach will ensure your transition is as smooth and efficient as the German Autobahn.
Life in Luxembourg: A Small Nation with Big Opportunities
Although Luxembourg is one of the smallest countries in Europe, it certainly doesn't fall short when it comes to quality of life. This multilingual, multicultural hub nestled in the heart of Europe offers a unique blend of French, German, and Belgian influences, creating a rich cultural tapestry.
The Luxembourgish education system reflects this multicultural spirit, with mandatory education in Luxembourgish, French, and German. Moreover, several international and European schools cater to the diverse population. The University of Luxembourg, established in 2003, has already carved a niche for itself, offering multidisciplinary courses taught by professors from all over the world.
The healthcare system in Luxembourg is excellent, offering high-quality medical care. It is a compulsory, public system where the state covers a significant portion of the costs. This comprehensive coverage ensures that every resident has access to the medical attention they need.
As one of the wealthiest nations globally, Luxembourg's economy is particularly strong in banking and finance. It has become a prominent hub for major multinational companies thanks to its favorable taxes and business-friendly policies.
Taxation in Luxembourg is known for its appeal to businesses and high-net-worth individuals. The corporate income tax is relatively low compared to other European countries, making it an attractive destination for businesses. Moreover, tax incentives are available for investments in research and development and intellectual property.
Life in Luxembourg is about enjoying the best of both worlds – the charm of picturesque villages with modern cosmopolitan cities. From historical sites to contemporary art galleries, and from gastronomical delights to outdoor activities, Luxembourg offers a lifestyle that's both comfortable and invigorating.
At No Borders Founder, we understand the allure of Luxembourg and are committed to making your transition effortless. Our team will provide professional advice and personalized solutions, turning the dream of living in Luxembourg into a reality.
Destination Switzerland: Alpine Excellence and Exemplary Quality of Life
Famed for its watches and chocolates, Switzerland offers a life that's as smooth and exquisite as the finest Swiss-made timepiece or the most decadent chocolate truffle. Beyond these delicacies, the beauty of Switzerland is reflected in its lush Alpine landscapes, shimmering lakes, and well-preserved medieval towns. But the Swiss quality of life goes far deeper than this picturesque beauty. It's rooted in an unwavering commitment to individual well-being and societal progress.
Switzerland's robust education system, for instance, consistently ranks among the top in the PISA (Programme for International Student Assessment) rankings, an international survey that evaluates education systems globally. With high-quality compulsory education and a dual education system that blends academic and vocational learning, the Swiss ensure that every individual, regardless of their career path, is well-prepared for the future.
When it comes to healthcare, Switzerland is at the forefront as well. The Swiss healthcare system is universal, and its mandatory health insurance ensures that everyone has access to quality medical care. This high-quality care reflects in their life expectancy, one of the highest globally, with Swiss men and women living an average of 81.7 and 85.7 years, respectively, according to the World Health Organization.
In the economic realm, Switzerland's stability is its shining star. As home to some of the world's largest multinational corporations, particularly in the financial, pharmaceutical, and manufacturing sectors, the Swiss economy is robust and resilient.
For the affluent individual or the business owner seeking a new home base, the Swiss fiscal structure offers some remarkable benefits. Tax rates in Switzerland are determined by the confederation, the cantons, and the municipalities. The canton where you choose to live or base your business can significantly impact your tax bill. For instance, the canton of Zug is renowned for its particularly low tax rates, attracting businesses and high net worth individuals from across the globe.
Beyond these tangible benefits, Switzerland offers a lifestyle that balances work and leisure brilliantly. The Swiss place great importance on personal time and outdoor activities, ensuring a quality of life that remains unmatched.
At No Borders Founder, we're dedicated to helping you navigate the ins and outs of this relocation process, ensuring that you can start your Swiss journey on the right note
Conclusion: Charting Your Course to Europe with No Borders Founder
Europe: a continent that draws upon a kaleidoscope of cultures, rich histories, and picturesque landscapes. It boasts a myriad of countries, each unique in its allure, yet all providing an unparalleled quality of life. A realm of endless opportunities and adventures waits within its borders. Whether you are captivated by the ethereal beauty of Norway's fjords, the cozy Danish 'Hygge' lifestyle, the French 'Joie de Vivre', Germany's precision, Luxembourg's multicultural charm, or Switzerland's balanced living, Europe truly has something for every discerning taste.
The prospect of relocating and starting anew in such an environment may appear as enticing as it is daunting. The logistics, paperwork, and cultural adaptations involved can sometimes seem overwhelming. This is precisely where No Borders Founder comes into play.
As experts in international relocations, our mission is to make this transition as smooth as possible. From helping you choose the country that aligns with your lifestyle and business aspirations, to guiding you through the nitty-gritty of immigration processes and regulations, we are with you every step of the way. We understand that each individual, each family, and each business has unique needs and aspirations. Therefore, we offer tailor-made solutions designed to address your specific circumstances and requirements.
At No Borders Founder, we go beyond just relocation assistance. We aim to help you seamlessly integrate into your new surroundings. We provide insights into local customs, lifestyle, and business opportunities, to help you thrive in your new home, not just live. We are committed to providing holistic solutions, and as a part of our services, we also guide you on optimizing the tax benefits offered by these European nations.
We understand that for entrepreneurs, wealthy individuals, and high-net-worth families, financial management is paramount. Hence, we delve deep into the taxation systems of these countries, bringing to light the various tax advantages and incentives they offer, assisting you in making informed decisions.
Embarking on a journey to Europe is not merely about changing your address, it's about embracing a new way of life, one filled with countless possibilities and enriching experiences. At No Borders Founder, we are committed to helping you navigate this journey, making sure that the European dream you aspire to is not just a far-fetched idea, but a tangible reality that you can live and relish.
After all, life is too short to be confined within borders. So why wait? Take that leap, chart your course, and let us guide you to your dream European destination. Because your dream life in Europe is not just a possibility, with No Borders Founder, it's a promise.
FAQs: Navigating Your European Dream with No Borders Founder
What are the top countries in Europe for quality of life?
Europe hosts several countries known for their high quality of life. These include Norway, Denmark, France, Germany, Luxembourg, and Switzerland, among others. Factors such as healthcare, education, safety, and income levels contribute to their high standard of living.
What makes the quality of life in Norway remarkable?
Norway's high quality of life stems from its strong emphasis on 'Friluftsliv', or open-air living, high-quality education, excellent healthcare, and a strong, stable economy. The natural beauty and rich cultural heritage also add to the Norwegian lifestyle's appeal.
Why is Denmark considered one of the happiest countries in the world?
Denmark consistently ranks high in happiness indices due to factors like a robust education system, exceptional healthcare, work-life balance, and the lifestyle concept of 'Hygge', promoting well-being and contentment.
What are the benefits of living in France?
Living in France offers numerous benefits, such as access to excellent healthcare, high-quality education, a diverse economy, and a rich cultural experience, marked by the 'Joie de Vivre' or joy of living.
What factors contribute to Germany's high standard of living?
Germany's high standard of living is attributed to its precision and efficiency in all aspects of life, including a strong economy, robust infrastructure, excellent education, and universal healthcare.
How does Luxembourg's taxation system benefit businesses and individuals?
Luxembourg's appealing tax environment, marked by low corporate income tax and various investment incentives, makes it an attractive destination for businesses and high-net-worth individuals.
Why is Switzerland an attractive destination for relocation?
Switzerland is known for its stability, prosperity, high quality of life, excellent education and healthcare systems, and an attractive taxation system, making it an ideal place for relocation.
How can No Borders Founder assist with my relocation to Europe?
No Borders Founder provides comprehensive support, from choosing the right European country to fit your needs, to handling logistics and immigration processes, offering a seamless transition to your new European home.
What financial guidance does No Borders Founder provide for relocating individuals and businesses?
At No Borders Founder, we provide deep insights into the taxation systems of various European countries, helping you optimize tax benefits and make informed decisions.
Can No Borders Founder help with integrating into a new culture?
Yes, part of our service at No Borders Founder involves providing insights into local customs, lifestyle, and business opportunities to help you adapt and thrive in your new surroundings.
Who can benefit from the services of No Borders Founder?
Entrepreneurs, wealthy individuals, high net worth families, and businesses looking to move and enjoy the quality of life and tax benefits in European countries can significantly benefit from No Borders Founder's services.
Why choose No Borders Founder for your European relocation?
With our expertise in international relocations, we offer personalized solutions, handle all aspects of your move, and ensure a smooth transition, making your dream of living in Europe a tangible reality.
#NoBordersFounder #EuropeanRelocation #QualityOfLife #TaxBenefitsEurope #MoveToEurope #EuropeanDream #NorwayLiving #DenmarkHappiness #FranceLife #GermanEfficiency #LuxembourgTaxBenefits #SwitzerlandQualityOfLife #EntrepreneurRelocation #HighNetWorthIndividuals #FamilyRelocation #EuropeanLifestyle #ExploreEurope #CulturalDiversityEurope #BusinessOpportunitiesEurope #EuropeanAdventure #LifeInEurope #EuropeImmigration #MovingToEurope #EuropeanTaxSystems #RelocateToEurope #EuropeForEntrepreneurs #HighQualityLifeEurope #EuroLiving #EuropeForFamilies #EuropeForBusinessOwners #EuropeanWealthManagement #EuropeTravelGuide #InvestInEurope #EuropeInvestmentOpportunities #EuropeResidency #EuropeTaxBenefits #EuropeRetirement #EuropeExpats #EuropeWealthyLifestyle #LivingAbroadEurope #EmbraceEurope #EuropeBound #EuropeOpportunities #JourneyToEurope #EuropeForWealthy #DiscoverEurope #BusinessInEurope #EuropeExpatriates