6 Asian Countries with the Best Quality of Life: The Ultimate Guide for Ambitious Global Citizens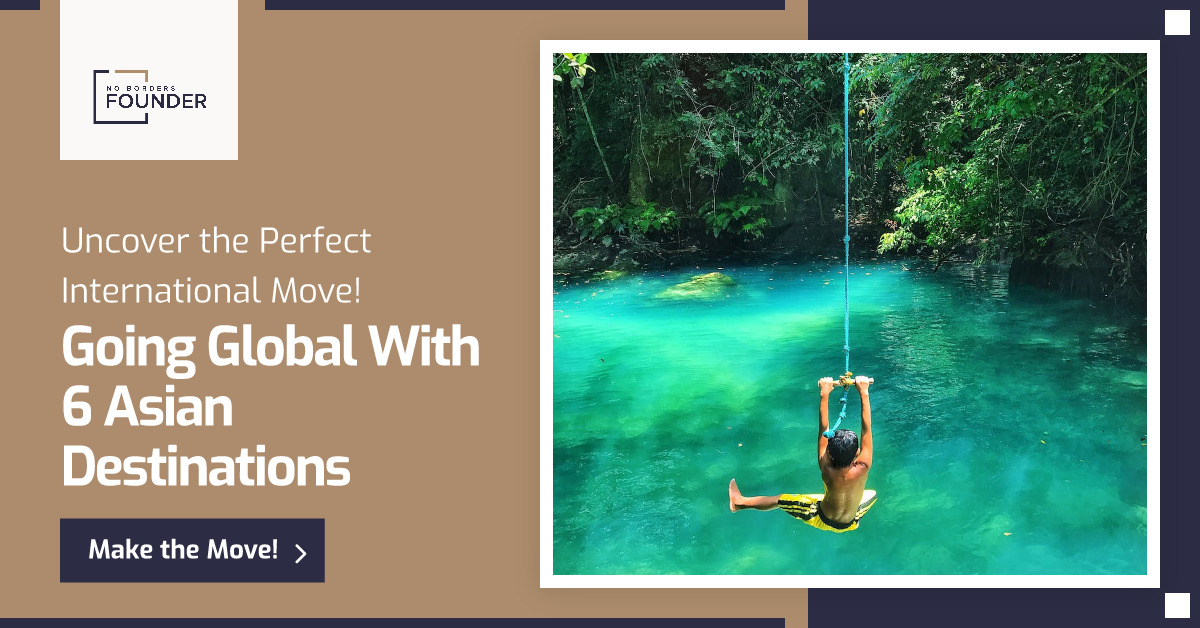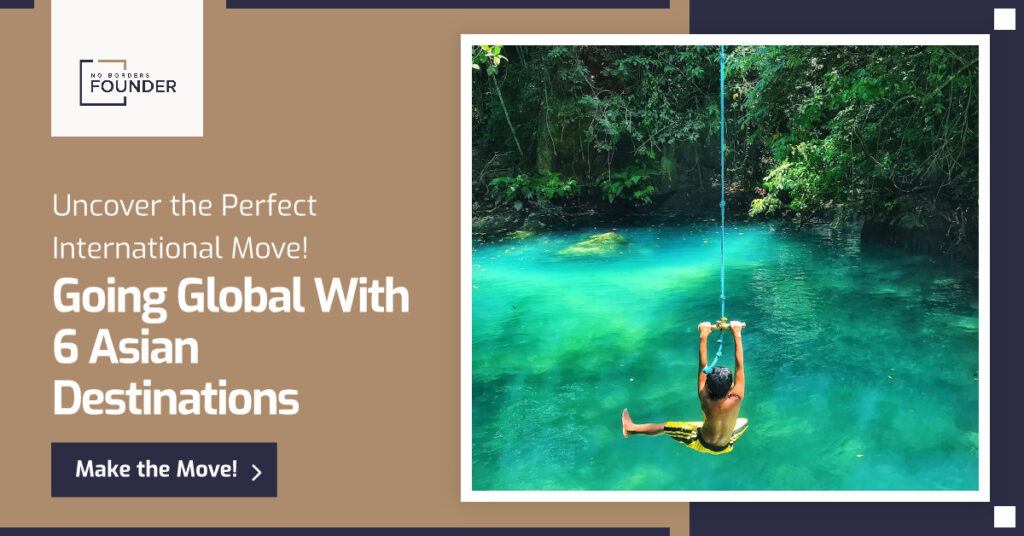 Unlock the Unsurpassed Quality of Life in Asia's Top Six Countries: A Comprehensive Guide for Entrepreneurs and High Net Worth Individuals
The Pursuit of Borderless Excellence
As the warm dawn light paints the skyscrapers in hues of gold, imagine waking up in a pulsating city situated in the heart of Asia. The rhythm of the city is a complex, harmonious symphony – traditional street markets bustling amid towering skyscrapers, modern innovations pulsing through centuries-old streets. This balance is the essence of Asia, a continent offering unrivaled quality of life for entrepreneurs and global citizens.
Asia, with its myriad of cultures and breath-taking landscapes, provides a unique blend of old-world charm and cutting-edge entrepreneurial opportunities. As the founder of No Borders, my odyssey across this vast continent has revealed its endless potential for personal and professional growth. Let's delve deeper into the heart of six Asian countries that epitomize this unparalleled quality of life.
Singapore: A Vibrant Hub of Progress and Culture
Singapore, known as the "Lion City," is a beacon of progress and cultural fusion. Thomas, a tech entrepreneur and a valued No Borders Founder client, successfully transitioned his startup from the tech corridors of San Francisco to the heart of this city-state. With our guidance, he was able to navigate Singapore's competitive business landscape, known for its robust economy, unparalleled infrastructure, efficient public transportation, and exceptionally low crime rates. In 2023, Singapore secured the second rank globally in the World Bank's Ease of Doing Business Index, further reinforcing its reputation as an entrepreneurial haven.
Beyond business, Thomas enjoys the intricate blend of cultures in Singapore, from the bustling hawker centers offering a smorgasbord of Asian delicacies to the lush Gardens by the Bay. His journey reflects Singapore's commitment to offering an exceptional quality of life, where innovation and culture live side by side in an urban oasis.
Japan: Symbiosis of Timeless Tradition and Futuristic Innovation
Japan stands as a mesmerizing fusion of timeless tradition and futuristic innovation. London-based fashion designer, Emma, in collaboration with No Borders Founder, expanded her brand to Tokyo. The city, recognized as a global financial hub, offered a fertile ground for her designs, while Japan's deep respect for its cultural heritage added a unique dimension to her personal experiences.
Japan's major cities are equipped with state-of-the-art facilities, including Tokyo's advanced rail network and Osaka's bustling startup ecosystem. Yet, amid this urban hustle, the tranquility of age-old Shinto shrines and the harmony of traditional tea ceremonies offer a serene escape. Emma's successful expansion to Japan highlights the nation's dedication to balancing modernity with its enduring cultural roots, making it an attractive destination for global entrepreneurs.
South Korea: Harmonious Blend of Rapid Growth and Rich Heritage
South Korea, often described as the 'Land of the Morning Calm,' is a testament to swift progress co-existing with a rich cultural heritage. Seo-jun, a Korean expatriate in New York, decided to return to his roots with the assistance of No Borders Founder. Seoul, the capital, is a vibrant hub of technology and innovation, hosting multinational conglomerates like Samsung and LG.
Despite the country's rapid growth, South Korea remains firmly connected to its heritage, as seen in the beautifully preserved royal palaces and the popularity of Hanbok, the traditional Korean attire. Seo-jun's successful homecoming showcases how South Korea's economic dynamism aligns perfectly with its cultural richness, promising an exceptional quality of life.
Taiwan: Island of High-tech Progress and Enduring Prosperity
Taiwan, the 'Beautiful Isle,' is a tapestry of high-tech progress and enduring prosperity. John, a client of No Borders Founder, shifted his AI start-up from Silicon Valley to Taiwan. Despite being a small island, Taiwan is a titan in the tech industry, housing the world's largest supplier of contract computer chip manufacturing.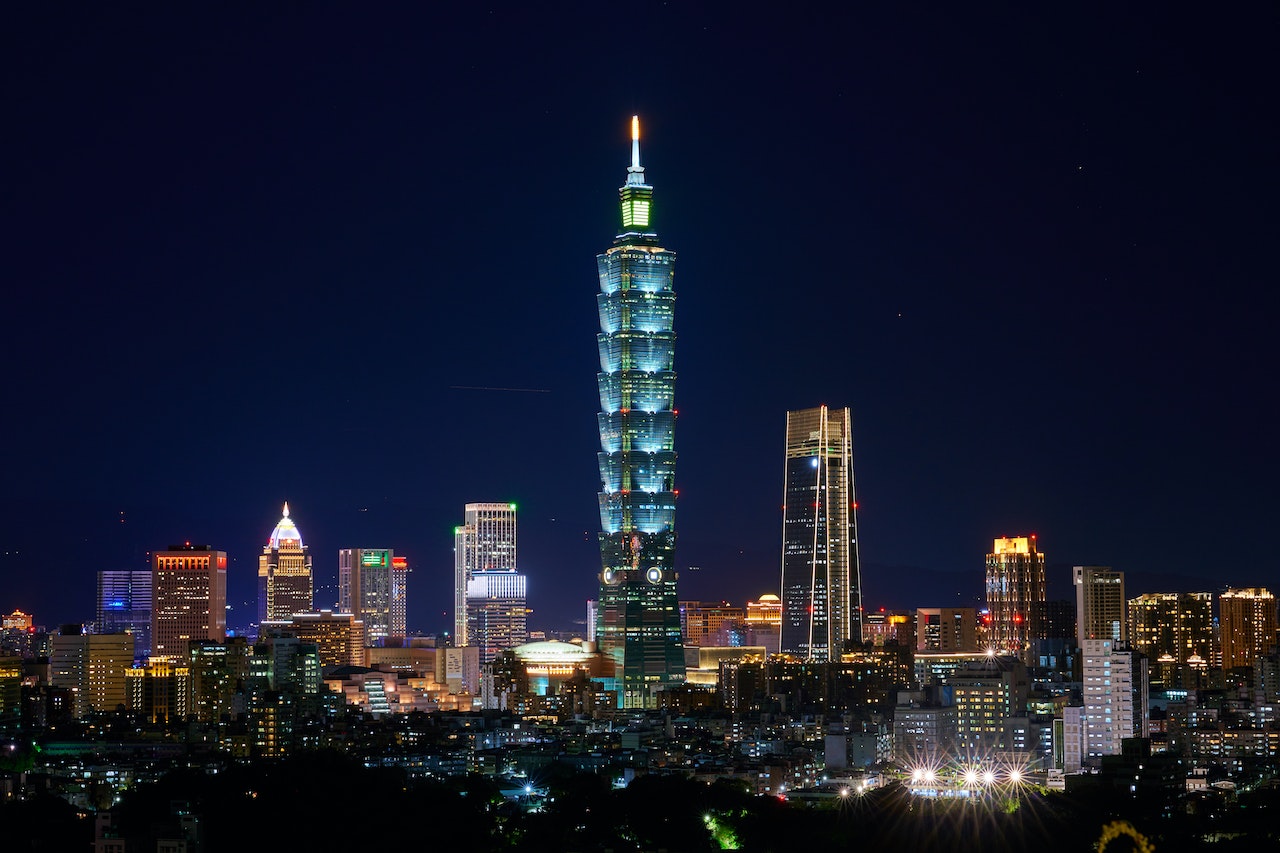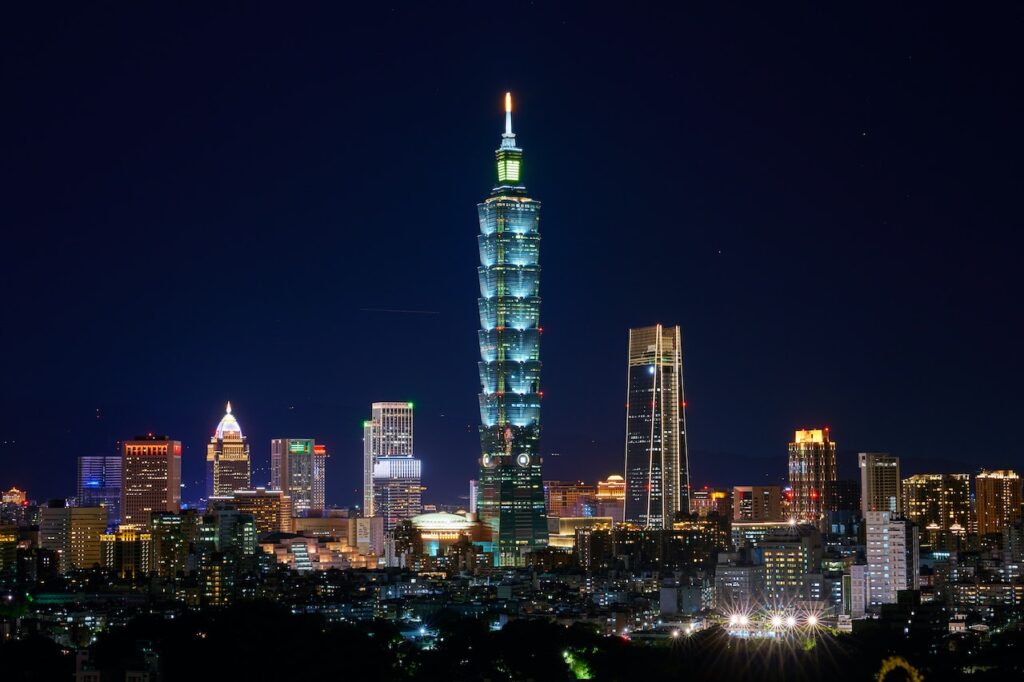 Simultaneously, the nation's cultural allure, pristine landscapes, low crime rate, and world-class healthcare system offer an exceptional standard of living. John's experience in Taiwan underlines the country's aptitude in offering a thriving business environment and an enriching lifestyle – a balance that defines the Taiwanese spirit.
Malaysia: An Interplay of Multicultural Charm and Business Opportunities
Malaysia, where cultures come together, presents a charming blend of lifestyle and business opportunities. Sarah, an Australian restaurateur and a client of No Borders Founder, found Malaysia's economic stability, competitive cost of living, and distinctive food culture perfect for her fusion eatery venture. The country's blend of Malay, Chinese, and Indian cultures is reflected in its unique culinary scene, making it an enticing proposition for foodpreneurs like Sarah.
Sarah's journey underlines Malaysia's strengths – a multicultural society, robust economy, and a vibrant lifestyle, cementing the country's reputation as an attractive destination for global citizens.
United Arab Emirates: Luxurious Living in the Crossroads of East and West
While not traditionally categorized as an Asian country, the United Arab Emirates (UAE) represents luxurious living in the crossroads of East and West. Ravi, an Indian real estate magnate and a valued No Borders Founder client, chose the UAE as the next frontier for his empire. With its tax-friendly policies, world-class infrastructure, secure environment, and vibrant expatriate culture, the UAE offered Ravi a rich canvas to expand his business while ensuring an opulent lifestyle.
The No Borders Founder Advantage: Navigating Global Transitions
Navigating the terrains of global transitions can be intricate. This is where No Borders Founder steps in, guiding your journey towards your dream destination. With a global perspective and intimate local knowledge, our team is adept at cutting through the noise and directing you towards the best quality of life Asia has to offer.
Sven, a digital nomad and No Borders Founder client, shared his experience. "Transitioning is more than just moving locations. It's about integrating into new cultures, understanding local nuances, and establishing your presence. No Borders Founder made this journey not just feasible, but enjoyable."
Our portfolio spans a spectrum of services, from identifying suitable Asian markets for your business, facilitating visa processes, finding the perfect home, and even assisting with cultural integration. When you choose No Borders Founder, you're not just crossing geographical borders; you're transcending limitations and creating a life of borderless opportunities.
Unleashing Your Global Potential
As the sun dips below the horizon, casting long shadows over Asia's vibrant cities, you can find yourself immersed in a world that balances tradition with innovation, offering both personal fulfillment and business growth. This perfect blend of factors establishes these six Asian nations as the epitome of quality living for entrepreneurs and high net worth individuals.
Through the stories of Thomas, Emma, Seo-jun, John, Sarah, and Ravi, we've seen the manifestation of these possibilities, the tangible reality that Asia's best quality of life offers. Partnering with No Borders Founder, they've managed to write their success stories in these countries, assimilating into the rich tapestry of Asian life.
Asia, with its diverse cultural landscape, promising entrepreneurial scene, and excellent quality of life, beckons you. The question is – are you ready to respond to its call? With No Borders Founder by your side, your journey towards an unmatched Asian lifestyle is closer than you think. Embark on this life-altering adventure, embrace the exciting opportunities, and craft your story of personal and professional growth in Asia.
References
For an informed decision, it's essential to delve deep into each country's facts and figures. Below, we've provided some statistics from World Bank and other reputable sources that detail the Ease of Doing Business rank, GDP, healthcare standards, and the Global Peace Index for each country.
| Country | Ease of Doing Business Rank (2023) | GDP per Capita (2022) | Global Peace Index (2023) |
| --- | --- | --- | --- |
| Singapore | 2 | $65,233 | 7 |
| Japan | 29 | $40,849 | 9 |
| South Korea | 5 | $31,362 | 48 |
| Taiwan | 15 | $25,873 | 34 |
| Malaysia | 12 | $11,414 | 25 |
| UAE | 16 | $43,006 | 42 |
This data emphasizes why these six countries have emerged as the top choices for quality of life among global entrepreneurs and high net worth individuals. Choose your destination and let No Borders Founder guide your way towards a life of borderless opportunities and fulfillment.
FAQs: Exploring Asia's Best Quality of Life for Entrepreneurs and High Net Worth Individuals
What makes Asia an attractive destination for entrepreneurs?
Asia, with its rapidly expanding markets, robust economies, and fusion of tradition and modernity, provides entrepreneurs with unique opportunities for business growth and an exceptional quality of life.
Which Asian countries offer the best quality of life?
Based on several factors like economic stability, infrastructure, cultural diversity, and safety, the top six Asian countries offering the best quality of life are Singapore, Japan, South Korea, Taiwan, Malaysia, and the UAE.
How does No Borders Founder assist entrepreneurs moving to Asia?
No Borders Founder assists with identifying suitable Asian markets, facilitating visa processes, finding homes, and aiding in cultural integration, providing comprehensive support for a smooth transition.
How does the quality of life in Singapore support business growth?
Singapore's robust economy, efficient infrastructure, and multicultural society make it a haven for entrepreneurs, supporting both personal growth and business expansion.
Why is Japan an attractive destination for entrepreneurs?
Japan offers a perfect blend of tradition and innovation, providing entrepreneurs with a thriving business environment and an enriching cultural experience.
What makes South Korea a good choice for high net worth individuals?
South Korea's rapid economic growth, rich cultural heritage, advanced technology scene, and safety make it a preferred choice for high net worth individuals seeking a high standard of living.
How does Taiwan provide a good quality of life?
Taiwan boasts a thriving tech industry, a multicultural society, pristine landscapes, and a world-class healthcare system, offering a high standard of living.
Why is Malaysia considered an attractive destination for global citizens?
Malaysia's multicultural society, robust economy, competitive cost of living, and distinctive food culture make it an attractive destination for global citizens.
Why do high net worth individuals prefer the UAE?
The UAE offers luxurious living, tax-friendly policies, world-class infrastructure, and a vibrant expatriate culture, making it a popular choice among high net worth individuals.
How can I make my transition to an Asian country smoother?
Engaging a trusted partner like No Borders Founder can make your transition smoother. They assist in identifying opportunities, facilitating logistics, and helping with cultural integration.
What factors should I consider while choosing an Asian country for relocation?
Key factors to consider include economic stability, business opportunities, cultural compatibility, quality of healthcare, safety, and cost of living.
How can I integrate into the local culture after relocation?
No Borders Founder provides assistance in cultural integration through various resources, helping you understand local customs, etiquette, and languages.
Are there specific business sectors that thrive in these Asian countries?
Yes, specific sectors like tech in Singapore and Taiwan, fashion in Japan, digital services in South Korea, food and beverage in Malaysia, and real estate in the UAE have been particularly successful.
Is Asia suitable for digital nomads?
Absolutely. Asia's rapidly digitalizing economies, along with the mix of urban lifestyles and rich cultures, make it a perfect choice for digital nomads.
How can I start my relocation process with No Borders Founder?
Reach out to us through our contact form or call us directly. Our team will guide you through our personalized process, ensuring a seamless transition to your new life in Asia.
Unleashing Boundless Opportunities: Redefining Life and Business in Asia
Are you an entrepreneur or a high net worth individual envisioning a new chapter of life in Asia's vibrant lands? Maybe you've been captivated by Singapore's skyline, Japan's heritage, South Korea's innovation, Taiwan's tech landscape, Malaysia's diversity, or the UAE's luxury? If yes, we present to you a holistic, personalized solution that will make your dream a living reality.
We understand that breaking geographical barriers and establishing oneself in an entirely new socio-economic landscape can be challenging. That's why our dedicated team of experts is here to ease your transition, providing unparalleled service tailored to your unique needs.
Our portfolio of services, built from years of experience and successful client stories, ensures that your journey from dream to realization is smooth and rewarding. We assist in identifying the most suitable markets for your business, navigate the complexities of visa processes, find your perfect home, and even aid in cultural integration. We bring in-depth local knowledge paired with a global perspective to create a bespoke service package just for you.
Envision a life where you can sip tea amidst Taiwan's lush landscapes after a successful business meeting, or dine in a Michelin-starred restaurant in Singapore after sealing a major deal. Imagine thriving in Japan's fashion industry, leading innovation in South Korea's digital arena, delighting the diverse palates in Malaysia, or scaling heights in the UAE's real estate market. We make these visions attainable.
Partner with us and redefine your life and business. We're not just facilitating a geographical move; we're helping you create a life of limitless opportunities and fulfillment, a life that transcends borders. Embrace this life-altering journey with us and unlock your global potential in Asia's lands of boundless opportunities.
#LifeInAsia #AsiaForEntrepreneurs #AsianOpportunities #NoBordersLife #HighNetWorthInAsia #GlobalCitizen #AsianQualityOfLife #SingaporeLiving #JapanBusinessLife #KoreanInnovation #TaiwanTechLife #MalaysiaMulticultural #UAELuxuryLife #TranscendBorders #BusinessInAsia #AsianMarketInsights #EntrepreneurialAsia #CulturalIntegrationAsia #DigitalNomadsAsia #BorderlessOpportunities